This post may contain affiliate links. If you click on a link and purchase an item, I will receive a small commission. For more info, please see my disclosure on my Connect page.
The clean slate of a new year has me dreaming and scheming up ideas for my 2018 house project plans. I've been setting some intentions and goals for myself and high on the list is making my home more functional for my family. A little backstory, our home was at the top of our budget when we bought it and we didn't have much extra to put towards renovations. Luckily, the house was well built and the cute fam we bought it from took fantastic care of it. When we moved in, we had 4 tiny children so nothing big had to be done to make the house work for our family. Flash forward 7 years and it's still a wonderful home that we love, but there are some areas that just don't function well for us now that we have entered the teenage stage.
I don't want to admit it, but we really need to start thinking about finishing part of our basement. Seeing how that option just isn't in the budget this year, I've been focusing on figuring out ways to make the spaces we have more usable. I've been wanting to tackle several of these projects since we moved in and the thought of finally putting my own stamp on this house has got me incredibly excited! I can guarantee that most of these projects won't happen in the next 12 months, but what the heck. I figure if I'm going to think anyway, I may as well think big! At the end of the year, I can look back through what I got done and what I didn't get to and move forward from there. This list of dreams gives me a place to start and a first step towards turning the home in my head into the home where I live.
Now I've got to be totally upfront. I'm about to break a cardinal blogging rule here and I'm hoping you don't unfollow me for it… I'm going to show you real pics of my home. Like the authentic, true to life, this is how we live every day, non-staged, clutter-filled gems. I'm hoping by doing this, I can show how things aren't working and why I want to do what I do.
Before you unfollow or judge, let's keep in mind that nobody actually lives in those stunning, perfectly staged houses we all see on the internet. Yes, they are pretty and fantastically amazing, but they don't exist after the photo is taken. Real life is kids, dogs, throw-pillow-hating husbands, dirty laundry, the work/home balance, school papers, cleaning products, overflowing (because everyone hopes someone else will take it out) garbage cans, random shoes, toys, and dirt.
Hopefully, down the road when you see the after pics and the projects that come along with them, you can get inspired in some little way to make your own space work better for you. That's always my goal when it comes to sharing here.
So without further ado and in no particular order, here are the 2018 house project plans I'm dreaming about tackling!
1. Garage Shelving
When we moved in, our kids were thrilled about the climbing wall that the previous owners had built in the garage. It was such a fun feature and we used it a ton in the early days of living here. Sadly, when you are 6'5″ at 14, you don't really need climbing holds to reach the ceiling. With camping gear, sports equipment, gardening supplies, and tools needing somewhere to be stored, a climbing wall in the garage just isn't practical for us. Especially if the goal is to eventually finish a bedroom and bathroom in the basement. Right now, all the aforementioned is sitting in piles downstairs. Yeah, not gonna work.
So, out with the climbing wall and in with wall to wall shelving.
Crossing my fingers that I can sell all the holds and use the money to pay for the wood. I'm seriously dreading having to take out every one of those bolts. Sigh. But, to be able to really use this space will be beyond awesome.
2. Staging Area
I have been trying to stage my furniture pieces and projects for posts and sales in my garage, but it is such a pain. There is nowhere to build an actual staging wall which has been on my list of todos for a couple years now. In order to get enough light I have to open the big garage door and then the wind blows through and knocks everything over, making me totally stressed and not a happy person. I want to create an area, that isn't in my family's way, where I can easily set up for staging.
We have this corner in our basement that I think would work for staging. I would like to build a moveable wall (maybe on wheels even?) and a fake wood floor. It's not an ideal space, I will most likely have to purchase a lighting kit to compensate for being in the basement, but that's ok. Something is better than nothing. I just keep thinking how nice it would be not to have to rush through taking pics because the clock is ticking and the hubs is coming home and will need to park his truck where my set up is. Yes, not ideal but I'll take what I can get.
3. The 1/2 Bath Reno
This little powder room has been on my project radar since the day we moved in. There is no natural light and the olive green space is like a dark, mossy cave. I painted the green ceiling white when I was painting the rest of the main floor but that's as far as I got and it's driving my family nuts. The pedestal sink is cute but it doesn't provide any storage so I'm constantly running upstairs for more toilet paper for some poor stranded pooper yelling from the bathroom for help. Don't laugh, you know you've been there!
I found the cutest bow front antique dresser that I plan on retrofitting with a sink. The light on the far right is broken so the whole fixture will need to be replaced. The faucet is missing pieces so it needs to go. Oh, and the toilet paper holder got ripped out of the wall and is currently hanging by a single screw so yeah, there's that. Hopefully, I can sell the pedestal sink and the mirror to get a little cash towards the new stuff. When my husband asked what I wanted for Christmas, I simply pointed in here. He just shook his head but knew he couldn't say no to this one.
I've got the prettiest wallpaper picked out and possibly a board and batten treatment up my sleeve. Gah! I am so excited about this project that I can hardly stand it!
Here's a sneak peek at the wallpaper pattern that I've been drooling over.
via Hygge & West
To see more photos that I'm using as inspiration for this project, check out my Powder Room Pinterest board HERE.
4. Family Room
Green. So much green. My little kids loved this wall when we first moved in so I never painted it. But, it's seen its day. The beam that runs along the super high pointed ceiling is also trimmed in green, so it's a bigger project than it looks. I don't even know if that giant extendable bendy ladder in the photo is going to reach. Yeehaw.
I have toyed with the idea of a wood plank wall (similar to the ceiling in THIS space), thick stripes or some other fun focal, but I'm not set on anything yet. I love THIS white plank wall in the attic family room of Hawkes Landing and it would make the room feel bigger. I'm leaning that way but still not sure. At this point, I may just paint the green the same as the other walls and call it good until I get a little more decorating warm fuzzies.
The t.v. is going to get mounted on the wall so it can be rotated and angled for better viewing. The couches were from our first home and are showing their age. Once upon a time they flew out of our pick up and rolled down the road in Provo Canyon. Kid you not. There is a giant tear on one and the kids use the cushion stuffing for snowball fights. It's just swell. My plan is to bring the leather sectional up from the living room but we'll have to wait and see.
Buying a new couch may be pushing my luck because I haven't won the lottery and I have special plans for a long bookcase on this angled wall where the old daybed has sat. Wall to wall books, people! My family is full of avid readers and we have tons of books but nowhere to put them. You guessed it, they're also sitting in boxes in the basement. Are you starting to see a theme?
Instead of letting that awkward space be wasted, I want to put it to use for a library. I know it's going to be a pain for me to build as I'm not great with math or angles, but it'll be so worth it when it's done. The daybed will be saying goodbye and going up for sale. I had originally put it here for guests but it hardly ever gets used. I'm thinking I can store an air mattress in the linen closet that can be pulled out and blow up for visitors instead. Honestly, an air mattress would be a whole lot more comfortable than that daybed any day!
It's going to take some time and money to create the family room space of my dreams and it won't all happen this year, but at least I can begin to lay the foundation. We all have to start somewhere, so a can of paint and a built-in is where I will begin.
5. Bee's Magical Escape
This room was pink when we moved in and my little girls fought over who got it because it was "fit for a princess". For the first year, it was our nursery and then when my baby girl outgrew her crib, she moved out and my oldest daughter moved in. Bee loved all things pink back in those days but now as a teenage artist, the color is feeling fussy and stifling.
For her birthday, my daughter asked me to redo her room. I can't blame her, it's a little girl room and seeing how she and I now share clothes, she's not so little anymore.
I have to tell you, I'm having the toughest time designing this space. The angled ceilings and walls of our home create an incredibly charming feel but really restricts furniture placement. I think I'm going to sell the cute little Queen Anne sofa and build a window bench in its place. Maybe have the top on a hinge so Bee can have storage for her art supplies?
The antique bedroom set has been passed down in my family for generations and has to stay, but it could definitely use a new mattress. Bee wants purples, greens, and blues which makes me wonder if I can use the antique pieces to create a bit of a vintage boho vibe. My daughter is creative, passionate, and artistic, her space needs to mirror that. Her birthday is in less than a month so hopefully, inspiration hits me soon!
This is the shade of purple she is begging for, heaven help me.
6. The Manchild's Man Cave
The other teenager in the house has also been asking for a room update. His room works and there's nothing big to change, just some tweaking and shifting to man things up a bit. When we first moved in, my son was a 7 year old with missing teeth and a cowlick on his head that stood up like Alfalfa's from Little Rascals. Now he plays center for the high school basketball team, races around on a dirt bike, and I have to swat the girls away like flies. 3 1/2 more years with him is all I have.
How did that even happen?
Anyway, enough of that. Back to the room. I've got a headboard in the works from an old beat up brass bed I'm refashioning. The paint on it should be cured in a few days and it will be ready to go against that boring back wall. He was given the coolest old school classroom map which he is stoked about so that will get hung. The baby blue walls will have to go and I've also got to come up with a way to display all his treasures and antler sheds.
I don't want a theme per se but I'm definitely going for a world traveler type feel. A navy wall, leather, wood, metals, and accents of deep blues and greens.
Manly Traveled Vintage, is that a style?
7. Two Girls and a Closet
My 2 youngest girls share a room. It has worked great all these years but I can see this getting really tricky in the days to come. Their room is the smallest footprint but it's also the only room without angled ceilings which allows for two twin beds, a desk, and a dresser. The biggest struggle with their room is actually their closet. The closet was carved into the eave so it has a crazy shape much like the space found under a set of stairs. We've made it function with two little girls but like their siblings, they are rapidly growing up. If it's a struggle at 10 and 8, how in the world will this space work when they are in their teens?
I have absolutely no clue how to make this skinny, angled closet function better but I have to. This project isn't a want, it's a need and not one I look forward to. I may need to call in some outside help. Because, where on Earth do I even begin?
8. Laundry Room Storage
When we first moved in I knew immediately that the empty laundry/mudroom wasn't going to work. Our 2nd Christmas here I asked Santa for wood to build some mudroom storage. (See HERE and HERE.) We also built a pedestal to hold our washer and dryer which gave us room for laundry baskets but that's as far as the money would stretch. Since then, I've done what I could with what I had.
You guys, I have lived here with no cupboards or storage space for 7 years. It. is. time. Heads up, Husband! I'm asking for cupboards, open shelving, and a countertop for my birthday and Mother's Day. Don't say I didn't warn you. The old pedestal is getting torn out, the machines are going on the ground, and usable space is going in. No more leaky bottles of soap on the counter or bubbles all over the floor because the kids can't reach the washing machine soap dispenser.
Here are a couple photos I'm using for inspiration in my design:
I'm loving the beautiful painted cabinets and all the counter space in Becki Owens' Spanish Modern in Hillsborough project. My floors are very similar to these so it helps me visualize how something similar would work in my house.
via Becki Owens
The men in my family are TALL. A couple pairs of their jeans takes up a load in the washer. I love the idea of having great big laundry hampers to corral the dirty clothes. Sara from Twelve on Main DIY'd her own big hampers and I think they are so fantastic and functional.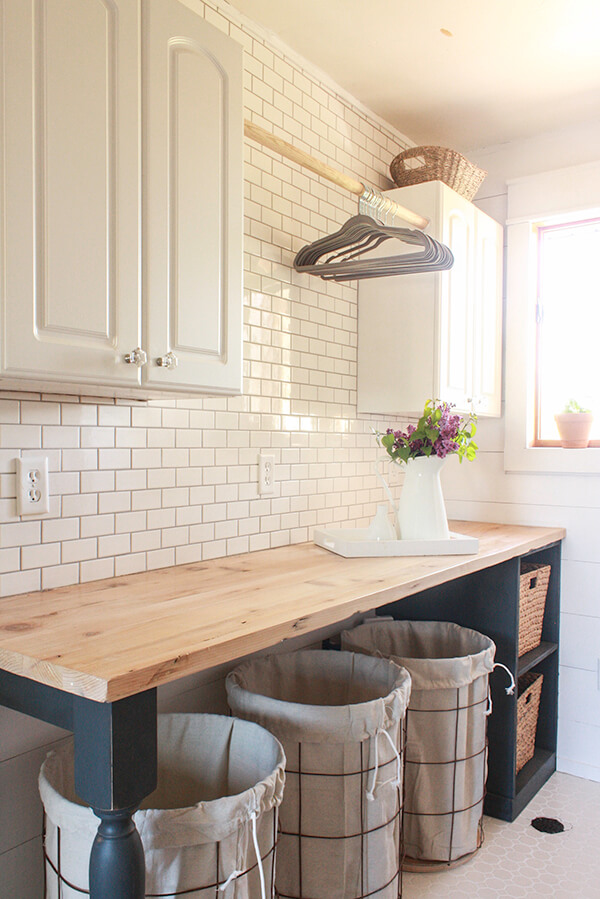 via Twelve on Main
The laundry in Chip & Jo's Mountain House gives me all the heart eyes.
See it HERE. If I had all the moneys, this is what I'd do.
9. Master Bath
Our master bathroom is totally functional, and soooooo much better than the bathroom in our first home. Over the years I have painted, swapped out some hardware, framed out the mirrors, and accessorized to give the room a spa-like feel. I still LOVE the Sea Salt walls. The color is gorgeous and the way that its mood changes with the lighting throughout the day is fun to watch. That being said, there are some funky things about our bathroom that I'd love to switch out.
For example, the brown tile running up the face of the tub. Carrying down the white tiles from the backsplash and tub surround would feel so much more natural. I know it's dumb, but the only thing I see when I walk into my bathroom is that brown tile and it drives me batty. I'd love to rip it all out and install a Carrera hex, but that may have to wait a few years. For now, I am trying to devise a way to cover the brown tiled tub face.
The lights over both vanities are busted and need to be replaced, so that is definitely on the to-do list. It's been tricky trying to find a light to fit that angle and I'm still looking for the right one. Any ideas? I'd also like to switch out the pendant for something a little more fun. The wood vanities are all scratched up from 14 years of wear and need to be sanded and refinished. I'm leaning toward a bleached oak or maybe a walnut stain? What would you do?
The other thing I need to tackle in this bathroom is tiling the ceiling in the shower.
My husband is 6'7″ and this shower wasn't built with a man his size in mind. Right now the water bounces off his head and sprays the ceiling which is causing mold and drywall issues. It isn't bad yet so if I fix it now by killing the mold and tiling that ceiling, the shower will last many years to come.
10. Kids Bath Remodel
My husband's grandma always says, "If wishes were fishes we'd all have a fry!" and that's pretty much what this bathroom project plan is. A great big wish. But I'm including it on here anyway because I'm hoping that by putting it out to the universe, I can set an intention and put dreams in motion.
All 4 of my kids share this bathroom. It's cute and plenty big but like other areas of our house, it isn't functioning well now that our kids are growing up. The vanity (on the opposite wall of the tub) is huge but only has one sink. While the counter space is nice, I'd love to add another sink so more than one kid can brush their teeth at a time.
It's hard to tell from this photo but the bathtub is incredibly shallow. It worked fantastic for our little babies, but not so much for our big teenagers. The shower rod stops 3/4's of the way across the tub, leaving your fanny hanging out in the cold. I sewed a custom shower curtain and tacked it to the wall when we first moved in, but the kids still complain and water goes all over. My 3 girls skip this bathroom all together and usually end up in mine. I'd love to rip out that tub and maximize the space with a custom shower.
Maybe something like this subway tiled shower with glass surround…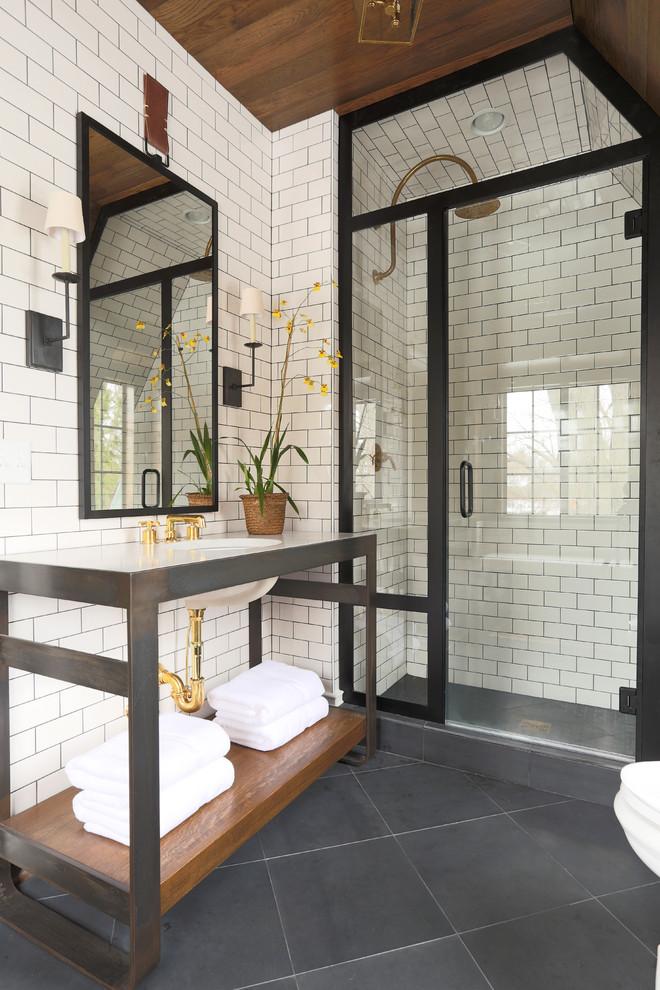 via Paperblog
Or this pretty shower built into the eave…
Dreams vs Reality:
Like I said before, I won't complete all these projects this year. That being said, I'd sure like to work a little here or there on them in whatever way I can. For some people, budget allows for major overhauls on their homes and that is rad. For others, we have to eat that elephant one bite at a time. It will be years before my house really feels like mine, and that's ok. I'm learning and growing alongside my family. It's all about enjoying the process.
May there always be a project to tackle, dirt under my fingernails, and paint in my hair.
What projects are you dreaming, scheming, and wishing to tackle in 2018?